This post brought to you by Hallmark Hall of Fame. The content and opinions expressed below are that of The Suburban Mom.
Do you like sappy, romantic movies as much as I do? How about those Hallmark Hall of Fame movies, aren't they great? They are my secret weakness. I can't resist getting sucked in when I stumble across a movie on the Hallmark channel. After watching the trailer for Hallmark Hall of Fame's Away & Back I am already sucked into the movie. It looks like another great Hallmark movie.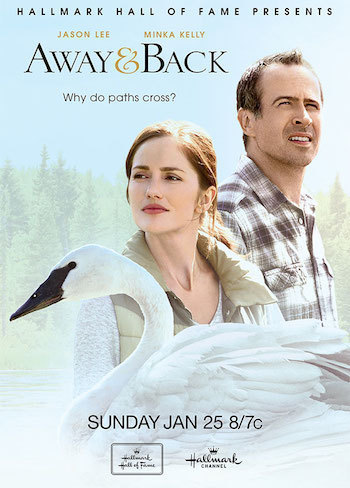 Hallmark Hall of Fame's AWAY & BACK premiers Sunday, January 25 at 8/7 Central on Hallmark Channel. Staring Jason Lee, who I love from My Name Is Earl, and Minka Kelly, who I love from Friday Night Lights, AWAY & BACK looks like just the kind of movie I would love to curl up with a cup of hot cocoa to watch.
Hallmark Hall of Fame's Away & Back
This is a heartwarming, family-friendly film that brings adventure, humor and romance. When a family of swans makes their home on the Peterson farm, it's love at first sight for 10-year-old daughter Frankie (Maggie Elizabeth Jones). But along comes no-nonsense ornithologist Ginny Newsom (Minka Kelly), who rushes in to "save" the majestic birds. For Frankie's dad Jack (Jason Lee), it's dislike at first sight when he encounters pushy, know-it-all Ginny. Frankie and her brothers are anything but neutral observers as they watch the initial hostility between their widowed father and the strong-willed Ginny transform into something else.
After the movie premiers on the Hallmark Channel the DVD will be available on HallmarkHallOfFame.com
Away & Back Sweepstakes
Want to win a trip to fly away? Through the AWAY & BACK sweepstakes you could win a family vacation! And all you have to do is watch the movie trailer and share it with your friends through the AWAY & BACK Facebook page to be automatically entered for a chance to win. It's easy.
Watch the trailer.
Sign up for the contest.
Share with your friends.
So go ahead – enter for a chance to win: AWAY & BACK Trailer – Share to Win Sweepstakes