This post brought to you by ALPO® Brand Dog Food. All opinions are 100% mine
I have talked about my adorable Yorkies before, but I have never shared the story about how they came into our lives and how my family came to be such a Yorkie-loving family. You see, our two Yorkies aren't the whole story. In my immediate family we have six Yorkies (and one very cute Shiranian). That's a lot of dogs, and they have a great story.
In college, all my sister wanted was a Yorkie. One Christmas she got her wish, and Marley became the first Yorkie in the family. Actually, she became the beginning of my family's love for Yorkies. Everyone loves Marley, and soon mom and I decided we too needed Yorkies.
So back to the breeder we went, picking up two more pups. But not just any pups, we got Marley's sisters — they all have the same mother. Everyone loves Bear and Maggie, and how could you not?
(Bear, Marley and Maggie.)
About a year later, mom and I decided that Bear and Maggie enjoyed each other's company so much they needed full-time playmates. Of course.
So back to the breeder we went, picking up two more pups who are also Marley, Bear and Molly's sisters. Everyone loves Bella and Molly.
(Maggie, Molly, Bella and Bear.)
It seemed like our family of Yorkies was complete, but not yet.
Grandma decided she needed a puppy for company. Everyone agreed that a hyper puppy was not a good idea for my elderly grandma who needed a more laid-back companion. By happenstance we mentioned her request for a Yorkie to the breeder who explained that the mother of all of our Yorkies — Ginger — was "retiring" and needed a new home. It was perfect. So Grandma became the happy owner of her very own Yorkie, the matriarch of all of our dogs.
And so we are a proud family of six Yorkies (and Cooper the only boy and non Yorkie), all females and all related. And when they all get together, it is chaos — the fun kind of chaos.
(Molly, Bear,Marley, Bella, Cooper and Maggie.)
A few months ago, I introduced our Yorkies to their first taste of Alpo® wet dog food. My pups gave it two paws up. This time, I wanted to share the ALPO® love with all of the Yorkies, so I planned to bring a can of the good stuff to Family Night Dinner night. (A weekly tradition for our family, and dogs to get together.) Unfortunately, mom has had pneumonia for a month, so everyone has missed out on Family Dinner Night – dogs included.
So my girls were left to share their thoughts on ALPO's variety dog food by themselves, and this was their reaction.
Since we didn't want to leave their sisters out of the taste test, we've packaged up a sampling gift to share.
Last time we tried ALPO®, we bought a 13 oz can. (We didn't notice any other options.) But since our dogs are so small, just 5 and 6 pounds respectively, a lot of it went to waste — that's just too much for two little dogs. This time we discovered 5.5 oz cans, which is the perfect size for our small dogs. So the 5.5 oz is perfect.
ALPO® Chop House 5.5 oz cans come in doggie-favorite flavors including T-Bone Steak Flavored Cuts, Tender Cuts with Lamb, Filet Minion Flavor and Rotisserie Chicken Flavor Cuts.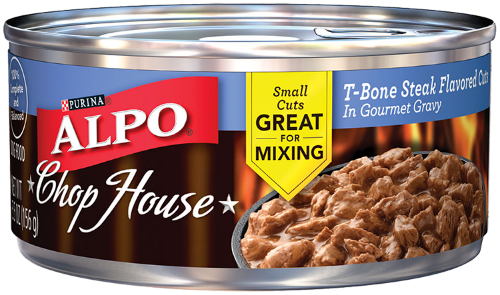 ALPO® wet dog food is complete and balanced, and it can be enjoyed alone or mixed with dry dog food (which is how we serve it to our pups). Available in both small cuts and finely ground, both are perfect for mixing. I prefer small cuts, finely ground looks like cat food to m. (Shhh don't tell the dogs I said that!)
To see more wagging tails of pups like mine enjoying ALPO®, follow ALPO's Facebook Page and ALPO® on Instagram.