This post brought to you by Scotts Turf Builder. All opinions are 100% mine.
The grass is always greener… in Florida. Here it is February, and as I look outside I see a sprawling lawn of green grass — well, mostly green. Our two frosts this season just barely browned the grass. It's not a lush spring green, but for winter this green lawn is a beautiful sight. (Sorry to make all of you northern folks jealous.)
It's one of the things I love most about living in Florida — green grass, green trees and blue skies. They just make me happy.
But you know what doesn't make me happy? Dollarweed. Dollarweed and clover. In my 10 years as a home and lawn owner, I quickly came to terms with the fact that a lawn full of beautiful green grass doesn't happen on its own. Nope. A lawn left to its own devices will quickly be over run with weeds — especially the dreaded dollarweed and its pal clover.
Like most weeds, one small patch can take over your yard very quickly, and once the rainy season starts — it is nearly impossible to control an infestation. Because of course, there is a balance, too much weed killer and bye-bye green grass too.
What is dollarweed? See those round leaves, that is dollarweed. I already have a small patch of it growing in my back yard, not a good sign for spring.
But Scotts Turf Builder has a new and improved product specially designed to kill and control dollarweed, clover and 50 other weeds while feeding and strengthening the grass. The new Bonus S is made for Florida lawns and is safe for use on St. Augustinegrass (like mine), bermudagrass, centipedegrass, zoysiagrass, seashore paspaulum and buffalograss. Bonus S will be available this spring in two Florida test markets — Jacksonville and Fort Myers.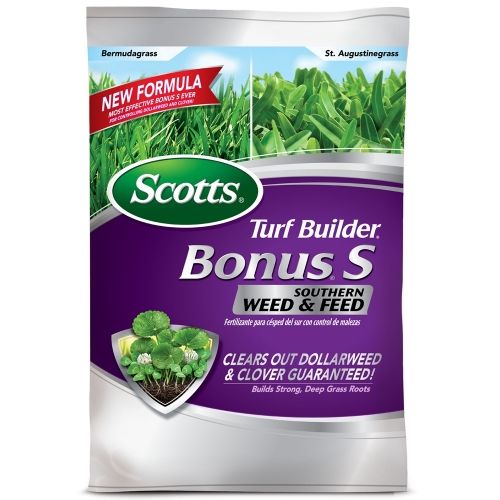 This spring I'll be testing Bonus S on my lawn, and I hope to control the dollarweed and growing clover problem. I will let you know how it goes in a couple of months. Wish me luck.
In the mean time, enjoy this cute commercial about Scotts Bonus S — coming soon.