This post brought to you by Buffalo Wild Wings. All opinions are 100% mine.
Two bits,
Four bits,
Six bits, a dollar.
All for football — stand up an holler!
Football season is in full swing, and even though my team is currently having a rather lackluster year, I will still be there (in spirit) every weekend to cheer them on. Go Gators!
How do you celebrate football weekends? How about with some wings?
Did you know at Buffalo Wild Wings the whole family can enjoy their wings while soaking in the football action on more than 30 flat screen TVs? That's a lot of grid iron. While I would prefer every TV in the joint point to my game, that many TVs does mean that my hubby can watch multiple games without making me dizzy with his constant channel flipping. That's something I can get excited about.
Throwing a backyard tailgate? Buffalo Wild Wings has that covered too with catering options to go — just make sure you have enough TVs or fresh batteries in the remote.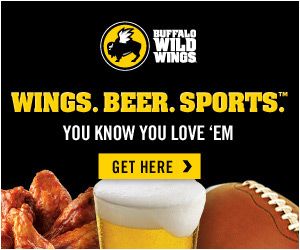 During the week, wing fans can also enjoy hot specials like Wing Tuesdays and Boneless Thursdays at Buffalo Wild Wings. Speaking of wings, you can choose your perfect flavor from any combination of 16 signature sauces and five seasonings. From mild to wild, you can create you perfect wing combo to suit your pallet.
Want to stay up-to-date with current promos on your favorite wings? Like Buffalo Wild Wings on Facebook Follow Buffalo Wild Wings on Twitter to stay in the know.
Whether you want to cheer on your team or watch all of the games at once while enjoying wings, Buffalo Wild Wings has you covered. So head on in to B-Dubs to cheer your team on to victory while keeping an eye on the competition's game and enjoying your perfect wings.
Goooooooo Gators!