This post brought to you by Buffalo Wild Wings. All opinions are 100% mine.
Who's ready for football season?! The Gators play their season opener at the end of the month and this Florida gal is ready to don her orange and blue and cheer for her team. It's time for the action, the suspense and a few Ws would hurt. Go Gators!
Fingers crossed that this season we will finally get back up to Gainesville to introduce our girls to the art of an SEC tailgate, but for all the other games we will be perched on the couch at game time.
When you just can't be there to see the game live, planning a game-time menu can help you get into the spirit of the game. And nothing says go team like hot wings (and maybe an adult beverage).
Whether you plan to celebrate football season couch-potato style or get social at watch the game in the company of others, Buffalo Wild Wings has you covered. Catering options? Check. A fun family atmosphere with plenty of TVs? Check.
In addition to the perfect football faire, BWW is debuting a new Bottomless Boneless Lunch special just in time for football season. You'll also find ongoing specials like Wing Tuesday and Boneless Thursday for all of those times you feel like some Buffalo Wild Wings in between game day.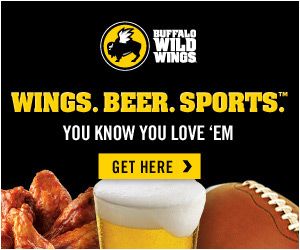 Like Buffalo Wild Wings on Facebook and Follow Buffalo Wild Wings on Twitter to stay up to date with all of the latest specials and offers from Buffalo Wild Wings.
When it comes to cheering on your team, will you celebrate with traditional wings or boneless? Me, I will be dipping my boneless in ranch while I cheer Go Gators!
Happy Football season!