This is a Sponsored post written by me on behalf of BuzzParadise for SocialSpark. All opinions are 100% mine.
Trying to keep track of our digital lives has been increasingly complex. From passwords and pin codes, to digital photos on our phones, to all of our credit card, bank accounts and insurance policies, it's hard to keep track of everything. This is where a new company LifeKeep is trying to help. LifeKeep is a "life management application" and through its website and free mobile apps, it can help you can keep track of it all while securely storing all of your personal items securely where you can access anywhere.

LifeKeep gives you a secure way to keep track of all of your personal details and information such as your vehicles, utility accounts, medical records, bank accounts, credit card accounts, insurance information and more with the ability to upload scanned copies of the records too. The interface and apps are intuitive and should be simple to use for users of all levels. All of your personal info entered on the LifeKeep website can be accessed securely too from the free LifeKeep app, which is perfect for the mom (or dad) on the go. If there were ever an emergency, LifeKeep can provide a way to access all of your most important information quickly and easily.
With a husband who works in IT who has taught me a lot about keeping my information safe, I was happy to learn that LifeKeep also uses AES-256 encryption technology for storing all of your information, which is the same technology used by the U.S. government and corporations for the highest level of security.
Other LifeKeep features include:
– Store, manage and retrieve your multi-media files. Lifekeep does the back-up and the file conversion to new format in the future. It is the central place from where you will post pictures on Facebook, share your public albums with your friends or listen to your friends' best music pieces.
– Manage your day-to-day digital life from anywhere, retrieve securely your passwords, your PIN codes, your important documents, your loyalty program numbers, your medical records, through your iPhone or your iPad, without ever having any data on your device.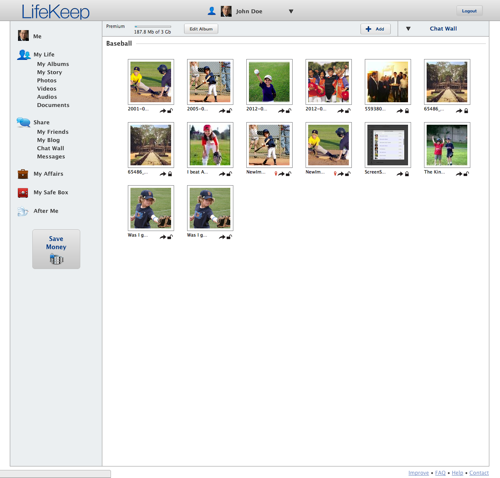 – Share securely what you want to share Send files, documents, Chat, blog with your friends and only them, through Lifekeep's secure network. Nothing is on the net, Better than dropbox, safer than Facebook, more convenient than Viber.
– Handle your digital life after you are gone. LifeKeep is the only application to provide a safe way to pass on the keys to your digital life, Leave your last wishes, tell your loved ones what you want and what to do in case you were to disappear. No more 'facebook accounts of dead people, no more uncontrolled pictures, no more things floating around…
You can sign-up for a free LifeKeep account including the iPhone and iPad apps and get 250MB of FREE online storage. Additional online storage can be purchased if needed, with an option for an unlimited amount of storage too. For more information, check out LifeKeep here.