I love to shop for little girls' clothes. I mean I L.O.V.E. to shop for little girls' clothes. With two little girls, I get my fill of buying adorable outfits and accessories and then some. There are so many choices of places to shop for my girls, but when it comes to special occasions nothing beats handmade.
The love and care that goes into designing and creating handmade frocks and accessories makes them not only unique but also special. Give me mass retailers for the everyday, but for family photos, first birthdays and holidays I turn to Etsy and now my new favorite seller of handmade dresses, Leave You In Stitches.
Not all handmade threads are created equal. Each is unique and special in its own right, but the wow factor is reserved for those made with the tiniest details in mind. When it came to choosing an outfit for my daughter's first birthday, I would accept nothing but perfection. That means cute (obviously), well-fitting, unique, high-quality and all around something to make you say. "Awe." I found it, don't you agree?!
Wait, wait… Check out the back… Isn't the ruffled tush to die for?!
And because I couldn't leave big sis out of the cuteness, a coordinating big girl dress.
Created by a pair of local moms (who are actually sisters in law), Leave You In Stitches creates whimsical, handmade clothing for girls and boys. (Yep, there are even some handsome duds for your little men too!)
I cannot express to you enough that what you cannot get from these pictures is the level of care and detail taken with every stitch. As a crafting hobbyist, I am an amateur seamstress having made my own curtains and a many Halloween costumes. But the perfection in the seams is far superior to anything I could even dream of creating. It is as professional as the dresses are exquisite.
The flowy dresses and skirts by Leave You In Stitches are just about as cute as they can be, but what makes these dresses so stand out are the fabric pattern combinations. I know beautiful mixed patterns when I see them, but I have no skills in selecting them myself. Each season the ladies of Leave You In Stitches select new pattern combos to great their lovely looks from – each cuter than the last.
Let's talk about price. I am shocked at how affordable these little dresses are, seriously shocked. For all the time that goes into making handmade dresses (of this quality) I was surprised to see that prices are similar to store-bought dresses, $25-$55. Really great pricing for a special handmade piece that will last and look great in pictures! Plus several items, including baby girl's Pinafore, are reversible — doubling your looks.
***Coupon Code***
To make the lovely looks even more affordable, Leave You In Stitches is offering my readers a 20% off coupon code. To use the coupon, shop Leave You In Stitches on Etsy and enter the code SUBURBANMOM at checkout.
If you are looking for a special look for photos, a birthday or just because, check out Leave You In Stitches. The cuteness factor is on overload!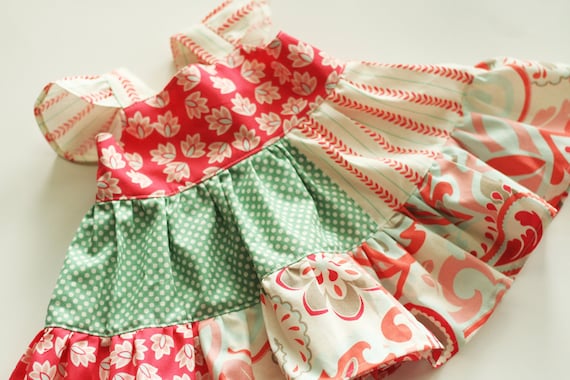 Giveaway
One lucky reader will win a Reverse Knot Dress w/ Flutter Sleeves, in Verona (pictured above) in their choice of size + monogrammed Valued at $40. So cute for spring pictures!!! (FYI that is the same style dress, just different fabrics, that my big girl is wearing.)
Photos by Peter Burg – Burg Photographix.
Product sample was received to facilitate this review, however, all thoughts and opinions are my own.